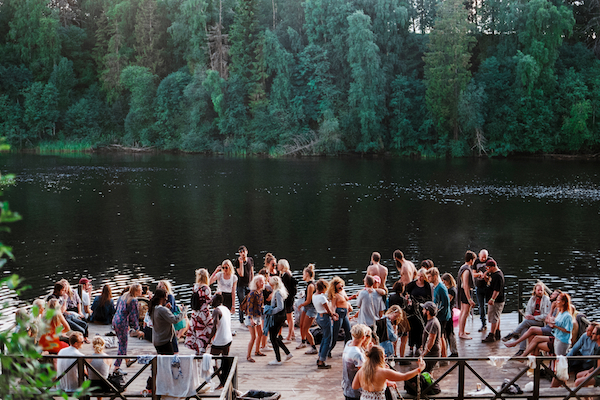 Planning events can look a lot like covering the physical needs of attendees first and foremost. Since those details are already pretty stressful, audience learning and getting your message across can often take a backseat. It's good to keep in mind what exactly you're doing all of this hard work for: reaching your target audience.
And to effectively reach those key players, they need to be engaged all the way through the event. So how do you grab people's attention, especially when their concentration levels are often worse than 3rd graders attempting to learn long division?
Below are some essential elements to include.
Gather audience feedback any way you can, as often as you can.
From a good ol' fashioned Q&A sesh to tech-savvy crowd-sourcing via attendee devices, nothing engages audiences like allowing them to have a voice. Give them a chance to submit questions or answer polls straight from their phones and incredible things will happen. Voting has never been so fun and low key, with real-time results to hold everyone captive in the moment (including you).
Deliver a speaker lineup that will make even the most corporate wet blanket starstruck.
Compelling speakers know how to get (and keep) an audience's attention. It's what they do best. Don't skimp on the speakers and you'll be pleased with the results. You can also help them out by giving them ample briefing and preparation so they understand the specific context around your event and your event goals.
Make it more dynamic than the weather forecast for event week.
Switching things up every few minutes keeps the momentum high and maintains audience engagement. Use things like discussions, case studies, exercise routines, snack breaks and more to create a steady, energized pace. There are some innovative ways to achieve that playful flow you're looking for, and you can tailor them to your event theme and goals.
Incorporate attendee inclusion into every part of the schedule.
Allow participants to act out event information in dialogue form, give them a chance to show off with interactive quizzes (preferably with prizes), add in hands-on demonstrations and live product trials, scavenger hunts, etc. Have a designated networking corner and encourage guests to share moments on their social media channels or live stream the event where appropriate. You'd be surprised with the uptick in excitement from even the most reticent of audience members.
Throw in a platform for free expression, stand back and watch the magic.
Whether it's a chalkboard wall with the approved event hashtag at the top, giant sheets of paper and ample colorful markers, approved "graffiti" boards, or photo booths with plenty of branded props, guests need a chance to let it all hang out. Seal those messages in their minds with long-lasting memories.
Experiential marketing that fully engages your attendees can pay off in a big way. Ensure your company stands out from the crowd with a 360 degree photo booth. 3D photo booths give your audience a chance to be a part of the action in a way no other tools can. Plus, images captured in the booth will be sent straight to their inboxes and your event microsite, allowing for easy social media sharing.
Talk to Pixperience about how to incorporate these on-point interactive tactics into your next event with fully branded bullet-time photo booths, green screens, event lead data capture and other experiential marketing services.