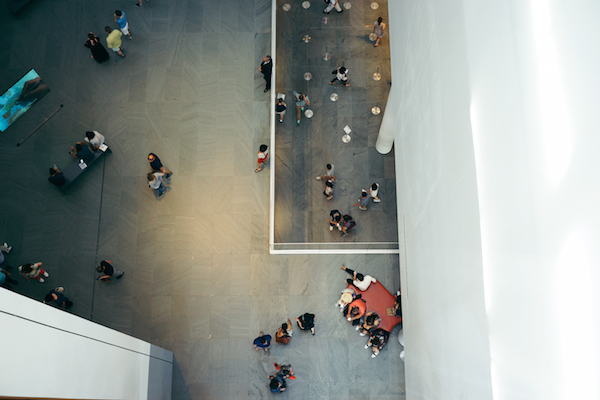 Highly interactive events enable brand awareness and enough face-to-face convos to hit (or maybe even exceed) company business goals. Your event's success depends on the level of engagement from your guests, plain and simple. And you want that level to be higher than the bid from the old-airplane-hangar-turned-hot-venue in town. (Seriously, how is that place booked for three years already?)
Below, you'll find some of the best ways to boost attendee engagement ahead of the event.
Set your sights on your site.
Whether you choose to create an event microsite, a designated registration landing page, simply write up a blog post or two about the event, or all of the above, make sure to broadcast event info loudly and clearly. List speakers, session topics, booth exhibitors, dates and times, all of that practical stuff, in combination with some event benefits that will dazzle your potential guests (think: short, spunky video). Content should be branded, targeted and allow your audience to talk back.
Turn social media into a science.
With social media channels, you can curate an event community before it's begun. Here are a few key elements to making the most of these channels.
Sure, you've heard about creating an event hashtag, but don't brush it off. That hashtag has the potential to do more for you than some of the most expensive promotional tactics in your little black book of event techniques.

Depending on your target audience, you can also contact social influencers (read: social media personalities with oodles of followers) to see if they'll post about your event.  

Construct a space for online discussions. Post content your audience will have an opinion about, stuff that will motivate them to engage without being too contentious (i.e. avoid politics and religion unless of course your event is inherently religious or political).

Increase your posting schedule as the event draws near to

build hype

with the best of 'em. Sneak peeks of event preparations make your audience feel like they're getting a behind-the-scenes preview. Snap a shot of room setup or your crew hard at work and that should do the trick.
Room design shouldn't be an afterthought.
Strategic positioning of seats, tables, booths, etc. is critical for peak engagement. The right layout enhances interactions and allows your attendees to absorb programs and conversations in a more impactful way. In other words, don't leave the seating charts to the interns. Facilitate deep connection rather than just giving someone a chance to small talk in order to avoid the office for a few hours.
Incorporate something new (you can leave out the borrowed and blue).
Show these folks a little something extra. Dynamic elements aren't just flashy distractions. They solidify brand messages and develop event memories into lasting experiences. Add in an engaging 360 degree photo booth with branded features and props and practically burn positive vibes into your guests' synapses. Pics from the 360 photo booth can be sent directly to attendee inboxes for easy social media sharing, sending out those vibes to an even wider audience.
Your event starts now. Don't panic or check your calendar, the event is still on the set date. But the experience begins for your attendees when you let it. So start warming up the crowd with a little experiential marketing help from Pixperience.