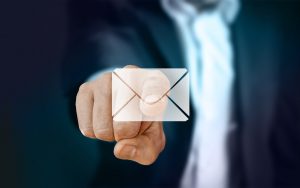 In previous articles, we've discussed the importance of pairing digital marketing with event marketing. The digital side prefaces the event. With mail flyers, a thing of the past and the effectiveness of TV ads declining, event marketing is on the up-n-up. To properly execute an email campaign, you'll have to create a pre-event and post-event email. Here is a complete guide to email marketing to help promote your next event.
Look at these stats
Not sure whether email marketing is worth the time? Take a look at these stats, and you'll feel differently.
The average open rate for a welcome email is 82% 

Emails with personalized subject lines generate 50% higher open rates 

49% of consumers said that they would like to receive promotional emails from their favorite brands weekly

Videos added to your email increase click rates by 300%  

Emails that display incorrectly on mobile may be deleted within three seconds.
What does this all mean to you and promoting your next event? That email marketing works, and people do pay attention to your emails! Make them look great, and people will engage with them and be more inclined to find out more about your upcoming event
Before the event email campaigns
These emails should include the following:
Six weeks prior to the event, send out an announcement email.

One month before, include an interview or previous blog article with an event director or executive of the company.

Three weeks before the event, send out a "teaser" email. People who use our photo booths and event microsite reuse content from their last tradeshow. It makes it easy for them that they don't have to create content in the midst of planning their event.

You're getting closer! Two weeks before the event, send out a save the date reminder that adds the event to their calendar.

A week before, send a brief overview of the event. You should include the who, what, where, and when.

Three days before, create an FAQ email.
Stay on top of other email campaigns in the time before the event. Sending too many emails about the event can come off as spammy and may deter people from attending. Not everyone on your email list is interested in events, and that's okay. Space out event emails, and they may come around to the idea.
Email Design
Each of these six emails should always include a description of the event, details, social media links, and a call to action button. Being as clear as possible is the most important part when creating an event email marketing campaign. That said, the email itself shouldn't be so over the top that it makes it difficult for readers to understand what the email is regarding. Irritated subscribers could opt out of your emails, losing you a long-term lead.
Make the email visually pleasing and fun. Gifs and videos are trendy to use and keep things light-hearted. Colorful memes and infographics are easy to make using an app like Canva. Emails with photos tend to do better than those without anything visually appealing. Always make your call to action button direct them to a landing page or registration app. Depending on the layout of your email, you can add a call to action button multiple times. Keep in mind some readers may skim your email and might not always get to the bottom.
Subject lines
You want your email subject line that will be something that will make a consumer click on as they go through their crowded inbox. Here is a list of suggested subject lines to use:
You're invited to [event name]

Grab your VIP ticket

It happens tomorrow…

Don't miss out this [month]

Meet the speakers

Booked tickets yet?

Start packing!

Announcing [your event speakers] and more
Additionally, personalize the opening line. Something like "Hi John!" is inviting. 
A few more notes
About three out of four people a day check their email more than once. Many do so on their phones, so make sure your email is mobile-friendly. Many email marketing services give you the option to preview emails on both desktop and mobile. Check to make sure photos arent getting cut off or if you have to scroll right to left to view the entire email.
While you don't want to give everything away about your event, tell your subscribers what activities will be there to enjoy, like our 360 or 180 photo booths. Consumers will definitely want to see what that's all about. Give us a call today for more information and how we can help make your event the talk of the town.