In our last project post about TD GenNext, we talked about how crazy it is that it's already December. Today, we're scratching our heads wondering how we are 12 days away from January. Time flies when you're having fun. And wow, we have been having a lot of it! When you're asked by TSN to bring a multi-camera photo experience to the Nissan Fan Fest at the 105th Grey Cup, you simply cannot say "no". It's nearly impossible! 🙂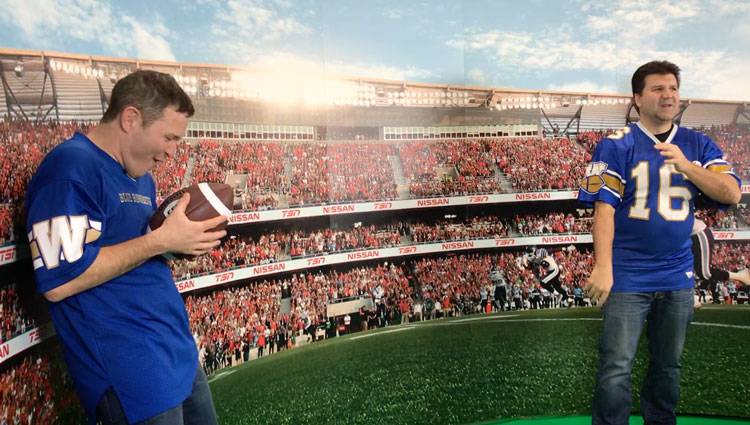 Is there anything more exhilarating than a good game of Canadian football? Needless to say, we didn't hesitate when TSN asked us to participate at the 105th Grey Cup Fan Fest. Again, how could we say no to that?! This year, Ottawa hosted the Grey Cup at TD Place Stadium. The Toronto Argonauts took on the Calgary Stampeders in one of the most exciting, historic games of the season. (Spoiler alert: Calgary did not stampede Toronto this time!) We are still thawing out from the gameday snowfall. And, though it was a cold day in Ottawa, Canada's Queen of Country Pop brought the heat during her incredible halftime performance. Football combined with Shania Twain makes for an amazing day if you ask us!
What did we do for TSN?
So, how did we help exactly? TSN asked us to participate in Fan Fest at the Nissan Fan Zone. We brought in our equipment, and set up an 180 degree photo booth for Grey Cup attendees to enjoy. Prior to kickoff, fans from all over came by our booth to create their own photo experience against a customized backdrop of TD Place Stadium.
As word quickly caught on, our photo booth drew a line of guests who wanted to participate. We always enjoy watching fans recreate their own football moments, which we made possible at our photo booth. Things began to get a little crazy, as we averaged one photo session per MINUTE throughout the entire event! We were happy to provide each guest with an instantaneous, shareable photo via our custom-branded microsite. Want to see all of this in action? Make sure to watch our highlights video above
We would like to thank TSN for bringing us in to be a part of this exciting day! It was such a memorable experience, and we enjoyed every minute of it. Also, thank you to all who stopped by our custom Grey Cup 180º photo booth! Please let us know if we can ever assist you or your company with our customized photo experience capabilities.
Until next time!