Do you know what is better than an event that people will talk about after it is over? An event that has brand pictures from a photo booth shared from it.
The saying a picture is worth a thousand words is not a fable.
Social media content that has an image is proven to preform better than posts that do not. In fact, 74% of social media marketers use visual assets in their social media marketing according to Hubspot.
As an event host do you want your attendees to share content about your business that will be well received? Of course! The goal of any event is to market your business.
A great event does not rely on faith that things will get done. It is set up to make things happen.
If you want your guests to share pictures from your event, have them take pictures at your event.
Setting up a photo booth is an easy way to do this and guests sharing your branded images will make up for the cost in marketing dollars.
Why a Photo Booth?
Having a dedicated area for guests to take pictures will encourage them to take them. A photo booth will also give you professional pictures that can be branded and shared. Photo booths are also interactive that will create a memorable experience for your guests.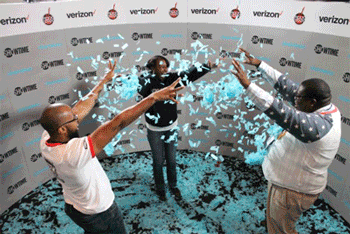 Remember to Track Sharing
Set up a personalized hashtag to encourage guests to mention your business in their posts. Most guests will happily add the hashtag and it is a great way for you to track images being shared. To learn more about creating a personalized hashtag visit ThriveHive.
Why Use a Pixperience 360 Photo Booth
We take a photo from multiple angles simultaneously and stitch them together, making the captured moment seem to rotate in space, a moment your guests will not soon forget. We offer a fully branded 360 photo booth experience.
Guests cans share their frozen 360º moment on Facebook, Twitter or even upload to Instagram.