Verizon Rockstar 360 Photobooth
Every year, Verizon holds an internal competition for its employees called Rockstar. Team leaders, facilitators, sales staff and managers from across the country were flown in to Austin this year to participate in skill drills, product promotion competitions and other fun activities.
Verizon always knows how to throw a party. This year was no exception. They also knew that a groundbreaking competition like this one deserves an equally groundbreaking way to capture the experience. Pixperience was there to deliver exactly that.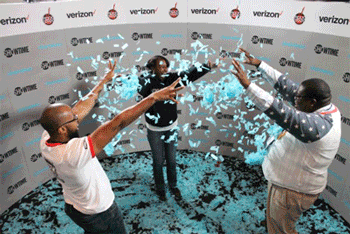 Working with the Rockstar team, we customized the 360 photo booth for seamless integration with Verizon and Showtime branding, messaging and overall look of the competition. With mounds of confetti to play in and winning attitudes all around, participants struck some impressive poses in the 3D photo booth. Leaping in the air, encircling groups of colleagues and showing off their skills, guests perfectly encapsulated the fun and excitement of the Rockstar event.
Maybe you've heard about these 3D booths before or seen them at events in the past. At Pixperience, custom luxury photo booths like these are our passion. We relish the opportunity to provide bullet time photo booths that are tailored to match your company's needs and business goals.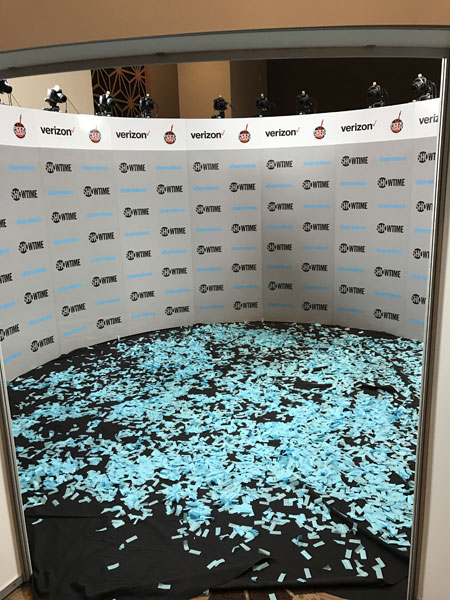 Like Verizon, it's time for your company to suspend gravity and make a statement with a full view of your next event. Event guests will naturally want to view and share photos once they see the capabilities of a 3D photo booth. These booths make it easy for them to do so, displaying the 360 view on a monitor while the images instantly hit their inboxes. Guests can also share their 360 moments on Facebook, Instagram and Twitter, which means your event and your company finally get the attention they deserve.
Ultimately, this unique feature is something you need to experience for yourself to understand its ability to empower, inspire and engage. 360 degree photo booths give you and your guests a full view of event moments. They automatically build a buzz around the experience, but also about your product and company.
View some of our other work to gain inspiration for your next tradeshow, launch party or company event. And contact us to talk about how we can fit one of our booths to your company's specifications. Discover what's possible when you bring people together and make a serious impression with Pixperience.