Recently, TD Bank brought us in for their fundraiser at the United Way GenNext event. Since they are targeting a younger demographic, United Way is branding "GenNext" to encourage people in their 20's and 30's to get involved with the organization. GenNext's mission is for these people "to more fully understand the issues that confront people in our region, to actively connect with and contribute to the community, and to influence positive change through meaningful volunteering and giving opportunities". What better way to welcome a younger crowd than with one of our multi-camera photo experiences?!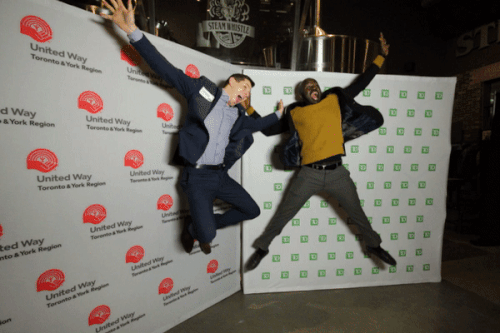 Our team set up at Steam Whistle brewery in Toronto. Yes, a customized 180 degree photo booth at a brewery.  Nothing could possibly be better! There were countless groups of people who came by our booth to take interactive photos galore. Guests were registered via iPad, and had their live photo link emailed to them within seconds. As a result, everyone had a fantastic time. View the highlight video below to see for yourself!
We enhance any event with our interactive photobooths , especially when a company is aiming to reach a different demographic. An average photobooth can only do so much. Thus, our approach is effective in making any brand stand out! We'll customize ANY of our 180 and 360 degree photobooths- usually, in ways you may have never realized were possible! Especially relevant, every brand we've worked with over the years has been extremely satisfied with the results. We hope to do the same for you.
Stay tuned for more upcoming project recaps. Contact us using the button below. We love working with new brands!