NYC Comic Con
180º Photo Booth
NYC Comic Con has earned a reputation of being the biggest and most exciting pop culture convention on the East Coast. Fans get a chance to meet their favorite celebrities and creators while catching exclusive film and TV sneak peeks. This event certainly draw the crowds, costumes and enthusiasm every year. Naturally, Pixperience was thrilled to play a part in the largest comic book and pop culture gathering in the country this year.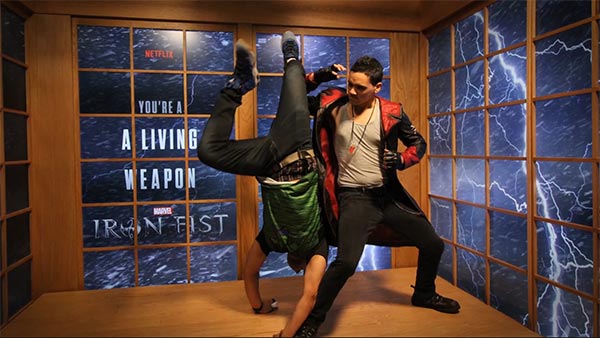 We had the opportunity to work with Marvel, Netflix and Ncompass to create a next-level photo booth for the promotion of Iron Fist. Marvel's Iron Fist is a brand new web TV series developed for Netflix. The series is consistent with the franchise, both based on the Marvel Comics original character and set in the Marvel Cinematic Universe (MCU).
If you haven't seen our 180 degree photo booths before, they take events to the next level of entertainment. They let you capture a moment and freeze time. The booths, also known as bullet time photo booths, allow guests to be an integral part of the action.
At New York's Comic Con, the booth made everyone feel like a superhero. Attendees struck impressive poses, simulating the gravity-defying powers of all their favorite characters. Visitors also got to clip heart rate monitors to their fingers, attempting to remain as calm as possible for a few seconds. Depending on a person's heart rate, different backgrounds were displayed in the 3D booth, turning the occasion into a fun, healthy competition in the most literal sense. Watch the Comic Con video to catch a glimpse.
At Pixperience, we're passionate about custom luxury photo booths like this one. We love tailoring each booth's specifications to align with our client's goals and the overall look and feel of each event. Guests can even view and share these images via social media with only a few touches to their phones' screens. These shareable pages are private and can be easily integrated into your campaign.
Whether your company has a launch party, trade show, corporate event or convention coming up, 180 degree photo booths reach your audience in an impactful way and make the event a lasting memory. See some of our other work to gain inspiration and get an idea of the possibilities. You can also learn more about what Pixperience can do by viewing our services page or contacting us . When it comes to 360 booths for brand activation, green screens, custom video and photo pages, or even data capture and lead generation, we have you covered.