ASICS Jump Room 180º Photo Booth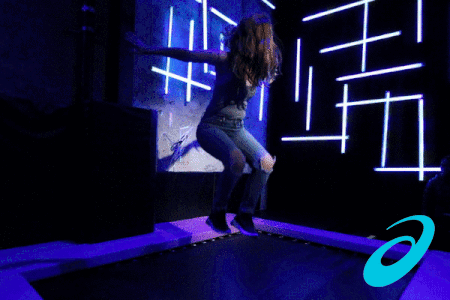 Recently, we were elated to work with  leading, sports performance brand ASICS in New York City. In launching their new campaign, "I Move Me", we were able to bring movement to life through our custom 180° photo booth. 
However, this was not your average photo booth. In the uniquely curated ASICS Jump Room, which featured two gigantic trampolines, we had all-star DJ Steve Aoki stop by! The Grammy- nominated producer celebrated his new partnership with the brand in our custom photo booth, which was, of course, super cool to witness.
Soon, event attendees followed suit after Mr. Aoki, as they crafted their own "Aoki Jump" through our photo booth. We were honored to be a part of each individual experience, and interact with ASICS fans like ourselves! Needless to ask: Who said trampolines were only for kids, anyway?!
Furthermore, we'd like to extend a big "thank you" to everyone who stopped by our photo booth. Event activations, such as this, are so unforgettable and exhilarating, and we enjoy capturing this essence through our customized photo booths.
The fall season is often accompanied by a drop in the temperature, a change in the leaves and… a jam-packed schedule full of events! At Pixperience, we enjoy helping various brands during this busy season with our custom-made photo experiences. And at our most recent activation with ASICS, we put our best foot forward- quite literally!
Get in touch today to find out how we can help create a customized photo experience like this for your next brand activation. We love a challenge and are happy to be a sounding board for your creative ideas.
We activate nationwide,  so whether your event is in Miami, New York, Chicago, Atlanta, San Francisco, Seattle or anywhere in between, we'll help create an experience your guests won't soon forget!