AAA Game Day 180º Photo Booth
It's safe to say our recent activation at the San Francisco Giants game hit a home run. At AAA Game Day, we provided baseball fans with a unique experience at AT&T Park. With a plethora of different activities throughout the day, Pixperience was thrilled to be a part of the process in setting up a 180 photo booth outside of the stadium at Willy Mays Plaza.
We understand not everyone can be a professional baseball player. But, with our experience in creating customized branded experiences, we can definitely make people feel like they are. How did we do this, you ask? Let us show you: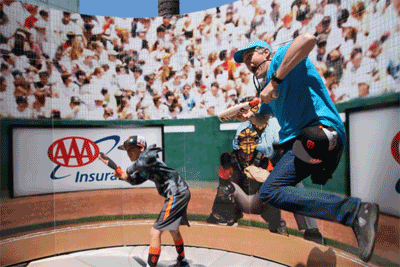 By creating a custom backdrop tailored to the occasion, AAA fans were able feel like they were up at bat on home plate. Fans craved the engaging, interactive experience that we were happy to provide. From baseball-crazed youngsters to grandma and grandpa, the 180 photobooth was a success. Not to mention, these photos were easily transferable to Instagram within seconds – and if you didn't upload it to Instagram, did it really even happen? Check out the highlights from AAA Game Day:
As we look to the coming months, we are constantly developing innovative ways to cultivate one-of-a-kind experiences for brands and companies across the country. We'd love to assist in making the most out of your event, whether it is a private stakeholder dinner or corporate holiday party. Having the technology, conceptualizing concrete ideas, and bringing them to life are just a few ways we can help out.
Thank you to AAA for having us at AAA Game Day. If your brand or company is in the market for any of our services, please send us an email here. We're here to help you stand out among competitors, and sometimes it's just as simple as making guests feel like Babe Ruth on game day.